Did you book your adventure and made up your travel plans but don't know where to stay? Don't worry, we'll guide you! Below you find information about our favourite places to stay in Rättvik and the surroundings. This is our selection of nice, cool, unique and friendly places to stay. Welcome to Sweden, Dalarna and Rättvik!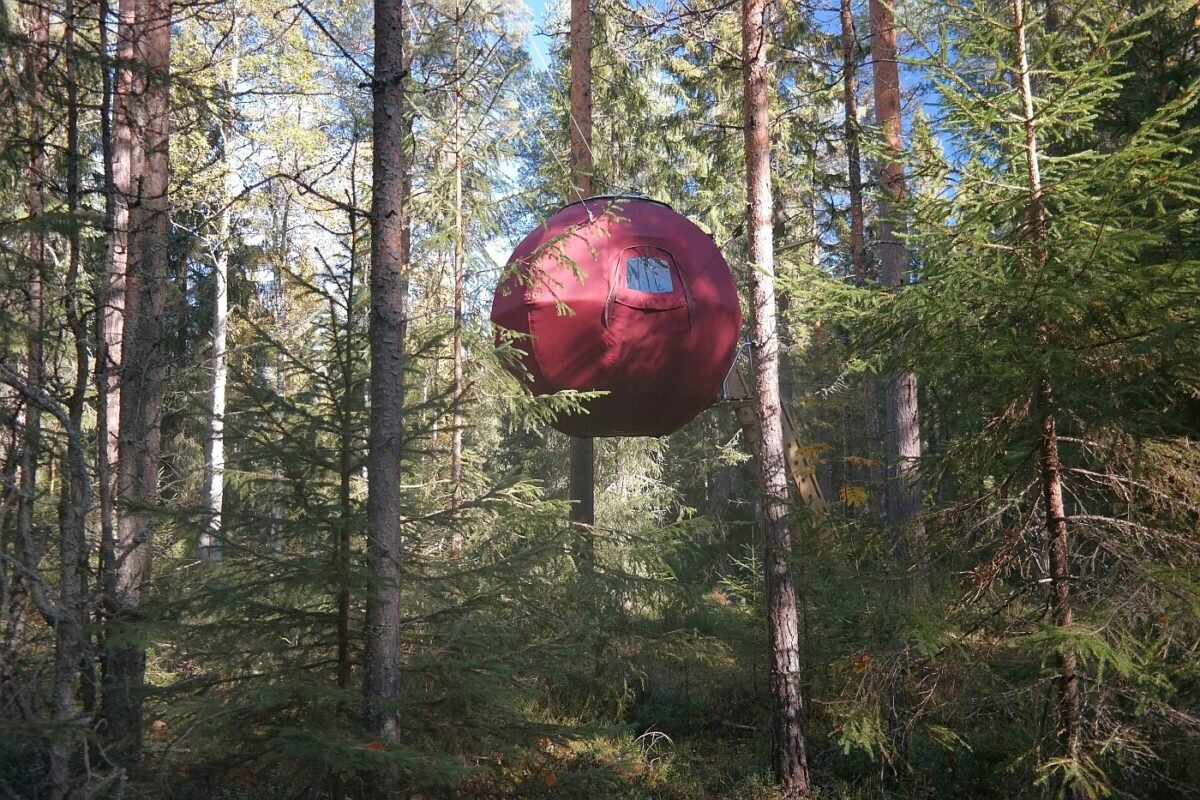 The barn and forest cabin.
Timmervägen 28, 790 70 Furudal
Näsets Marcusgård was originally a farm, founded back in 1910. The owner, Marcus Eriksson, came from a family of six children, 3 of them emigrated to America. Marcus however stayed and made his own journey. He took over the farm from his parents and started with two horses, 7 cows and 15 chickens. He soon started a forestry and transport company on the farm and he built a sawmill. At its peak, the farm had up to 15 horses and 7 trucks. Marcus married Johanna and together they raised seven sons. During Marcus life time, the farm was full of life and activity and soon became the centre in the village of Näset. 2014 Mireille, Willem and their two children moved in and started to transform the old farm into a modern guesthouse. 2018 two unique cabins were placed in the forest next to the farm - Oddis öga and Supermåne. Whether you choose to stay in one of the forest cabins or inside the old barn, you will have an exceptional experience. There are also many things to see and experience in the area. Just ask the nice hosts and they will be happy to share their favourites!
Furudalsvägen 700, 790 70 Furudal
In 2018 the Meersman family fell in love with the Swedish nature and way of life during a family holiday. When they finally returned home to Belgium after 8 weeks travelling the nordic countries, the hectic everyday life started all over again. Soon after the plumber Davy and the chef Evi found an old school in the small village of Dalbyn and decided they would buy it. Without thinking twice they took their three girls and small dog and moved to Sweden to start a new life. During the summer of 2019 they renovated the old building and turned it into a family friendly guesthouse with four apartments and a nice breakfast lounge. They also built a small barbecue house in the garden that can host up to 17 eating guests. A couple of months later a puppy, three goats, and a bunch of hens moved in. Now The Mangévie is the perfect place to slow down and enjoy the Swedish countryside.
Mårsåkersvägen 2, 795 32 Rättvik
Located in classic red painted buildings just 1 km from central Rättvik Lustigsgården dates back to the 17th century. The 14 personally furnished rooms have a nice mix of old and modern things with typical details from Dalarna. Some rooms also have a nice view over lake Siljan. In 2013 the Björklund family became the proud owners of Lustigsgården. Leaving their hectic city life in Stockholm behind they are proud ambassadors for the Lake Siljan region as well as for beautiful Rättvik. Ulrica & Niclas are the most charming hosts and would be happy to help you find the hidden pearls in the nearby area. Also ask them about the floating sauna…it will be your next adventure!
Lindängsvägen 11, 794 92 Orsa
Looking for something different? Check out the Kungshaga Floating Hotel room! This is a true "room of nature" - situated on the lake Orsa. Here you will be one with nature, for sure. The room is basic equipped with a double bed, a chemical toilet, a limited electricity source (sufficient for charging a mobile phone), a small table, two chairs and a small veranda. In order to reach and board the Floating Hotel Room you need to use a canoe (which you will borrow from the main hotel). The owners Pauwel and Daphne also offers rooms in the nearby Kungshaga Hotell, a hotel with 25 comfy rooms and a restaurant. The lounge has a cozy atmosphere where you can relax and enjoy a drink.
Storavägen 37, 795 70 Vikarbyn
Like home, but away. A stay in this family owned B&B, situated in a typical Swedish village, will do you good in every way. The nice owners, Marie and Lasse, will do their very best to make you feel at home and help you find your way around the nice village of Vikarbyn. The couple grew up in the neighborhood, started a family and raised four children. Back in 2001 the couple started their business in their private home. 2007 they bought the big red house where the B&B today is situated. The building was formerly a school and a village church. Renovated in a typical Dalecarlian country style by Marie and Lasse themselves, they also put their heart into the process. Together with cabins all around the village they today host about 100 beds. The cosy rooms in the main building as well as the stunning view over lake Siljan from the veranda and the sense of peacefulness the countryside brings will definitely be something you will miss when you leave.

Nittsjö Börsgatu 11, 795 91 Rättvik
Orginally designed and built as a retreat for female teachers Solgården is now a well known restaurant recommended in The White Guide. The farm also houses a nice garden with a big green house as well as a small guest house with four rooms. The perfect place to reset and slow down on the Swedish countryside. 2015 the chief Jonathan and his wife the sommelier Genevieve moved in. Thanks to the proximity to nature and local food producers as well as the possibility of cooking outdoors over an open fire, Jonathans passion for cooking has grown. The local ingredients and the different seasons completely controls which dishes you can find on the menu. Sustainability has also become a very important and natural part of their food philosophy.